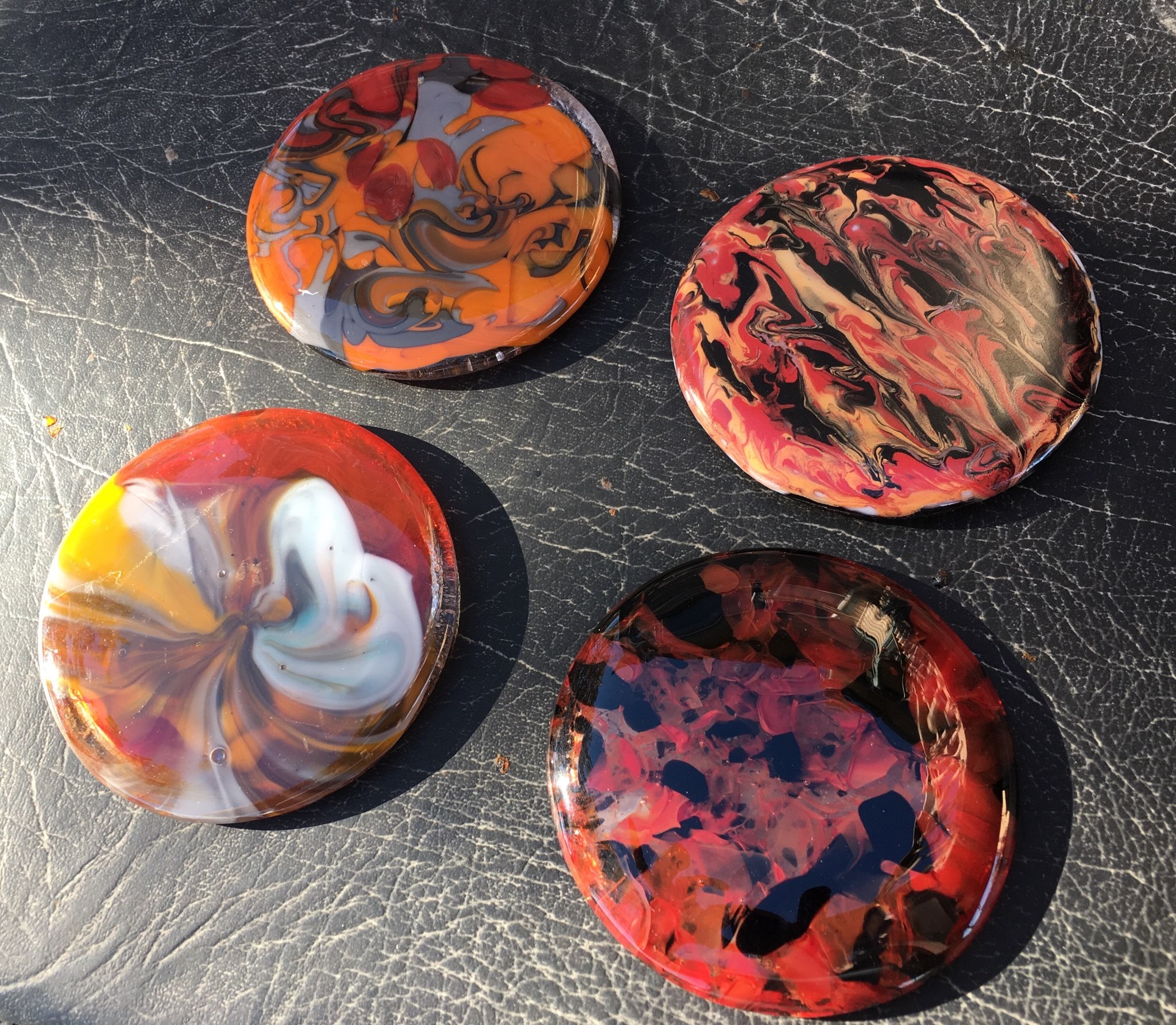 Glass and Disc Golf… who knew?!
We make glass minis in two sizes - our standard 3.9 inch and our pocket-play 2.9 inch. The unique thing about our glass minis is that we make our own molds and they are shaped with a rim, typical to a plastic mini. To our knowledge, this has not really been achieved with a glass mini prior to us. Our glass minis get a layer of solid, transparent glue on the backside to help make them more durable and more grippy. Our glass minis are fantastic for marking on multiple surfaces because of the combination of the weight and grip. Last year when we were selling in Vegas, a girl that was competing came up to us and said, "Well, my plastic mini blew away, so I came right over to get a glass mini." That was really, really rad.
We make multiple kinds of minis: pot melds, which are our swirly, random, and one-of-a-kind styles; mosaics, dichroic/shatters, standard/simple glass designs, paint swirls/splatters, sepia photos, and laser-etched designs. You can view almost all of these designs through our inventory and then also refer to pricing guide page.
We've also gained quite a bit of traction making tournament trophies. We make trophies in FOUR sizes - 6.5 inch (these come with a stand), 5 inch, 3.9 inch, and 2.9 inch. We laser-etch these to custom order. This year, we plan on expanding into plaques as well - which will be one of the first products we offer outside of our "glass" domain!
Additionally, we started making glass bag tags this year - for both clubs and personal orders. They've been a huge hit. They are most commonly rectangle (approx. 1.75 x 1.5 inches) and come with a key ring. We DO offer circles, but we only do these upon request - because we reserve the circle tags mostly for our national bag tag league. If you don't know about our national league, check the tab out for more information. We run national ace pots once a month!!!
Pyrohyzer has continued to grow immensely since 2015 and we expect nothing less in 2019.